My tours have been suspended due to the pandemic of COVID-19. The symbol of shrines, washbasin in Kamakura are all empty. If you plan to travel to Japan in the future, I'm happy to answer your questions anytime.
投稿者プロフィール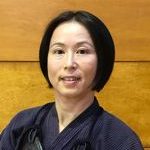 Hello!I'm a government licensed English speaking tour guide . I'm so happy to share a good time with you. I'll customize your original tour. Please let me know what you are interested in.
There is a famous park in Tochigi Pref. where so many wisterias can be enjoyed with sweet aromas. The color is simple, only purple or white, but it's amazing that the tree stretches the branches in every direction along with vivid plenty of petals. We cannot help feeling the powerful energy of nature and even awing. The flowers are, needless to say so beautiful and their aromas are like perfume. Daytime is OK , if you would like to enjoy watching them in a more fantastic atmosphere, it should be recommended to stay there until night. You'll surely be impressed with a shower of violet curtains This is listed by CNN as one of the 10 places to visit in the world, so it's attracted tens of thousands of visitors every year, however just in May !